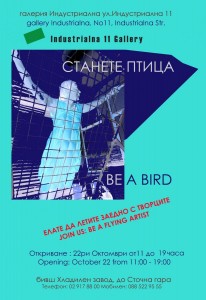 Art makes you feel like a bird,
Fly with the birds, don't hamper them…
Be a bird - Interactive exhibition(October 22- November10, 2012)
Andriana Marinova, Dessi Morozova, Genia Kalaidjieva, Kiril Bojkov, Irina Robev , Ioana Kemileva, Laura Dimitrova, Margarita Dopcheva, Mattew Martin, Miglena and Nikolai Shamanov, MinchoTodorov, Mirena Zlateva's students - Applied Arts school, Nikolai Marinov, Tatiana Andonova,
Mihaela Padeva, Mariangela Anastassova
The exhibition is interactive, erecting a bridge between creators and public, targeting especially those who administer culture, inviting them to join in making and enjoying art.
Every one present at the exhibition has the opportunity to intervene in the artworks by drawing, modifying, laying on, moving in them or with them…
It is hoped that the excitement of creation will awaken more understanding about art from the general public and from people whose profession is to help the artists…
Included are:
• A static bird for contemplation: lean on it and feel liberated from gravitation.
• A jacket for flying
• A space to fly in flock: you can take off your shoes and move, imagining that you are flying freely following the sound without clashing into the others in flight, like birds do.
• Clouds to be made yours: one impersonal piece of cloud at your disposal to be continued by you and to become unique.
• Free a light bird from a cage.
• Clouds in jars, caught by a boy who may decide to share them with you.
• Digital animations of people who fly, created by young students from the AAS, who may teach you how to create your own very personal flight.
• Birds in need of feathers - put the feathers on the birds
• Eggs to be arranged in so many ways
• Arrange your social atom: things and people you love and those you hate. Organize this!
• There are also cobblestones to be arranged by you
• And an embroidery puzzle
Soundtrack:
fragments from:
"Art & Aviation" by Jane Ira Bloom from her album of the same title
Cantus arcticus (Concerto for birds and Orchestra), pt. II Melancholy by Einojuhani Rautavaara
Rag Rageshree by Nikhil Banerjee from the album Fond Memories, vol 1
Parrots, recorded by Milen Panayotov in Mojacar, Andalucia, Spain